If you're looking to build or establish credit, one of the first things you'll need is a credit card. But what if you don't have a credit history? Don't worry – there are plenty of options for getting a credit card with no credit.
Here's how to get a credit card without any credit history. As a bonus, we'll discuss some tips for building your credit score once you have a credit card. 
Want to Rebuild Your Credit?
Compare credit cards for building credit responsibly.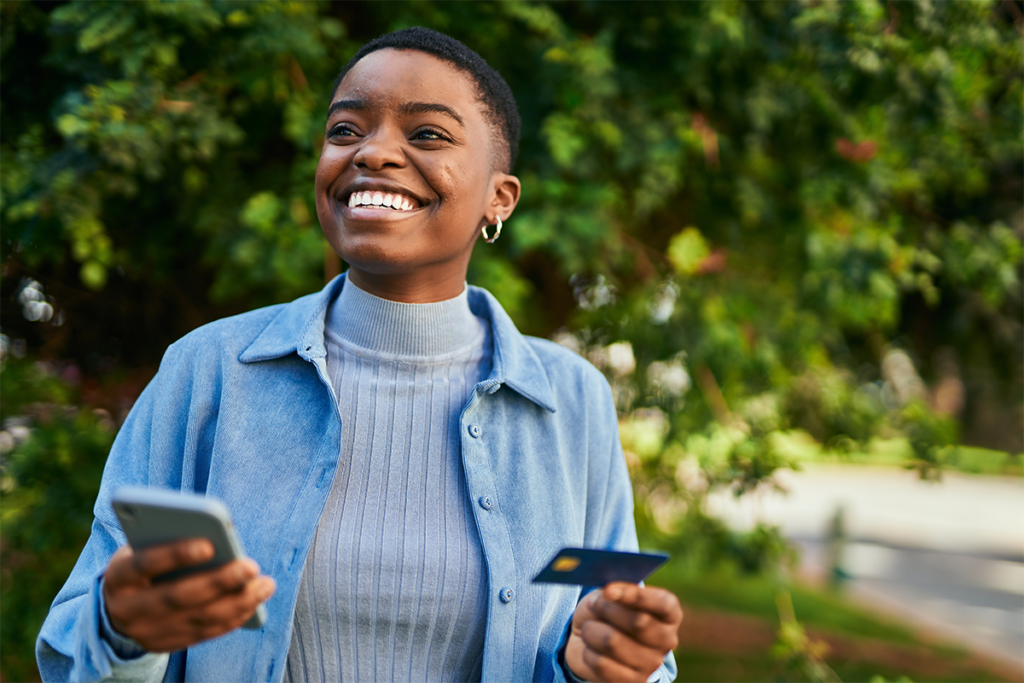 What Does 'No Credit History' Mean?
No credit history means that none of your financial activities have been reported to any of the three major credit bureaus (Equifax®, Experian®, and TransUnion).
Maybe you've always paid your bills in cash or only recently started using credit products. Whatever the reason, having no credit history does not mean you have a bad financial history.
What to Look For in a First-Time Credit Card
First-time credit card users should take a few key factors into account. Here are some things to think about as you start your search.
Eligibility requirements: you typically need to be 18 years old to apply for a credit card.
Fees:

Find a card with no annual fee, so you don't have any extra costs.

Pre-qualification or pre-approved

:

Pre-qualification and pre-approval are soft inquiries, so they don't affect your credit scores.
For your first credit card, you'll have limited options. Student credit cards are best for students, and they can offer rewards. 
If you're not a college student, consider a secured credit card. Most secured credit card require a refundable security deposit that will be equal to your credit limit. Some secured cards even offer purchase rewards.
Credit Cards for People With No Credit History
It can be difficult to get a credit card if you have no credit history. That's because creditors don't have any way of judging your ability to repay a loan. However, there are some types of credit cards that may be a good fit for people who are credit invisible.
A secured credit card may be a good option for you if you have no credit history. With a secured credit card, you deposit an amount of money that the issuer holds as collateral. 
You can then use the card to make purchases, just like other credit cards. By using your credit card responsibly, you may be able to start building a credit history and earn your security deposit back.
Go2Bank Credit Secured Card
The GO2bank Secured Credit Card can be an ideal option for those who want to build or repair their credit.
Go2Bank only requires a minimum deposit of $100. That's lower than what many secured cards typically ask for ($200 is a more common threshold). 
So, if you're looking to build credit from scratch, a secured credit card could be worth considering. 
A student credit card can be a helpful way to start building your credit history. These cards often have perks like no annual fees and reward programs that can help you save money on things like textbooks and college expenses. 
Another benefit of having a student credit card is that it can help you establish a good credit score. However, it's important to use your student credit card responsibly by making sure you only charge what you can afford to pay off in full each month. 
If you're strategic about using your student credit card, it can be a great tool for helping you manage your finances and build a solid financial foundation.
How to Apply for a Credit Card With No Credit History
If you want to apply for a credit card, you have two options: going online or working with a representative at your local bank branch. 
Applying online is typically the best option if you're looking for a fast and easy way to get approved for a credit card. 
When you apply for a credit card online, most issuers will ask for basic information about yourself, including:
Your Full Name
Social Security Number
Birthday
Address
Income

Additionally, some issuers may also ask for additional information, such as your employment history or your plans for using the credit card.
However, as long as you have all of the required information on hand, applying for a credit card online can be a quick and easy process. Plus, you'll often get a decision on your application within minutes.
How To Use Your Credit Card to Build Your Credit
You can build your credit by using your credit card responsibly. That means making payments on time, every time. Set up automatic payments or place a reminder on your calendar to make sure you never miss a payment.
Maintaining a low balance is as important as paying on time. Experts recommend using no more than 30% of your monthly credit limit.
Also, keep your credit card account open even if you don't use it much. This shows you are a reliable borrower and helps to build your credit.
Check Your Credit Report for Free
It's a good idea to check your credit reports often as you're building credit. That way, you can see whether there are any errors on your reports. 
Generally, credit card issuers use credit reports when considering credit card applications, so you'll want to be aware of what's on yours.
ExtraCredit by credit.com is a great tool to help you do just that. You'll have access to all three bureau reports and 28 of your FICO® Scores. ExtraCredit is Free to sign up and you can earn real cash through select Reward It offers.
You can get free copies of your credit reports from the three major bureaus by visiting AnnualCreditReport.com or calling 877-322 8228!
Start Building Your Credit Today
It's easier than you think to get a credit card with no credit history. You just need to find the right card and use it responsibly. Checking your credit reports regularly will help you make sure your credit score is on the rise. 
My USA Finance has all the resources you need to take control of your finances. Our powerful tools can help you get back on track financially. You can view your credit score, apply for credit cards and loans, or consolidate your debts into manageable monthly payments. Taking control of your finances doesn't have to be an overwhelming task. My USA Finance is here to help you every step of the way.
Credit Building Credit Card
Explore your options today!