Imagine diving into cool water on a scorching summer day or hosting a BBQ pool party. A pool offers endless entertainment, relaxation, and increases your property value. A pool can turn your backyard into a summertime sanctuary.
Adding an above-ground or in-ground pool can be expensive, so you may need to finance the project.
One option is to take out a pool loan. Pool loans do not require home equity, and qualified borrowers can get low-interest rates.
A pool loan is a type of personal loan specifically designed to finance the construction or renovation of swimming pools. 
Much like you'd finance a car or a home renovation, a pool loan lets you borrow the money you need upfront and pay it back over time.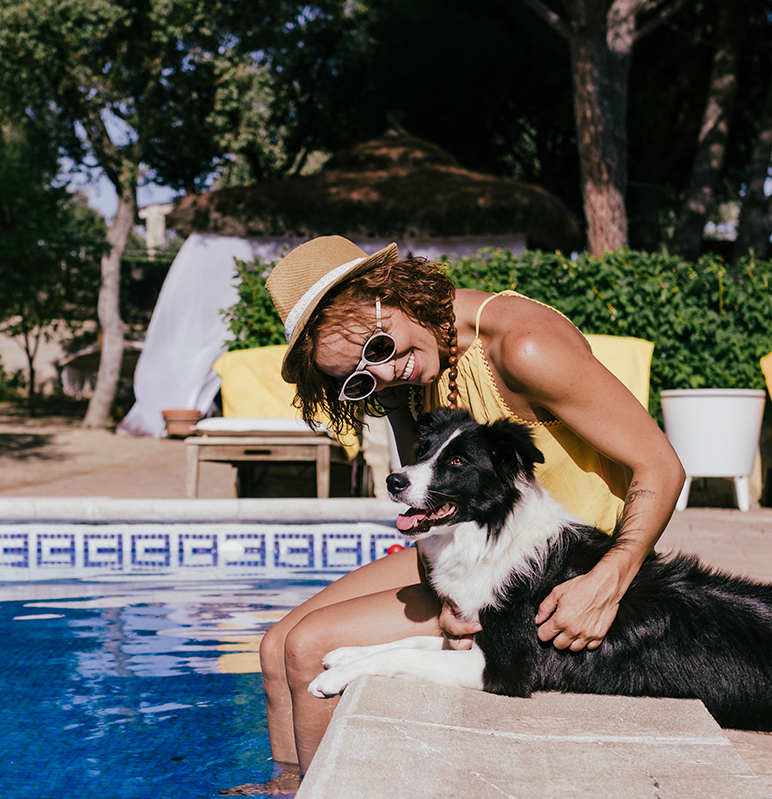 Looking for a Pool Loan?
Explore your options today!
Pros and Cons of Pool Loans
Fixed Monthly Payments

: Knowing your monthly payment can help with budgeting.
Flexible Loan Rates & Terms

: Depending on the lender, you may have the option to select the rates & terms of your pool loan.
Higher Interest Rates

: Unsecured loans often have higher interest rates than secured ones.

Flexible Loan Rates & Terms

: Depending on the lender, you may have the option to select the rates & terms of your pool loan.

Larger Monthly Payments

: Short repayment terms may require large monthly payments
Need Cash Fast? Get Approved for a Personal Loan Today!
Personal Loans Up To $50K
The pool loan process may vary based on your circumstances and chosen lender. These steps are a general guide.
Step 1: Get a Pool Estimate: Work with a contractor to establish a cost estimate for your pool project. Knowing the required amount will help you choose a suitable pool lender.
Step 2: Pre-Qualify: Some online lenders, banks, and credit unions offer pre-qualification. This lets you explore potential loan offers, rates, and monthly payments without affecting your credit score.
Step 3: Compare Lenders: When you receive similar pool loan offers, compare interest rates and terms and other loan features. Consider factors like quick funding options or extended repayment terms for larger projects.
Step 4: Gather Documents and Apply: Collect necessary documents such as W-2s, bank statements, and ID. Having these ready speeds up the process.
Other Types of Pool Loans
When it comes to pool financing, there are several options to choose from. It's important to carefully consider each option to find the best fit for your specific needs and budget.
A home equity loan allows you to borrow against the value of your home. It provides a lump sum of money, which you'll repay over a set term, typically with a fixed interest rate.
Pros
Lower Interest Rates: Typically lower than unsecured loans.
Potential Tax Benefits: Interest paid might be tax-deductible.
Cons
Dual Mortgage Payments: If you already have a primary mortgage, taking a home equity loan means managing two mortgage payments. This can tighten your monthly budget and reduce disposable income.
Risk To Your Home: Failing to repay could lead to your home being foreclosed by the lender, putting your property at risk.
With this type of loan, you replace your current mortgage with a larger one and receive the difference in cash. 
Keep in mind that this will involve getting your home appraised and paying closing costs, and the loan will come with new terms.
Pros
Access to Funds: A cash-out refinance provides access to a significant amount of money by leveraging the equity in your home, allowing you to finance the pool project.
Lower Interest Rates: If the current interest rates are lower than your existing mortgage rate, a cash-out refinance can offer a new loan with more favorable terms and a reduced interest rate.
Cons
Increased Total Debt:

Opting for a cash-out refinance increases the overall debt secured by your home, potentially extending the time it takes to pay off your mortgage and increasing the total interest paid.
Risk To Your Home: Failing to repay could lead to your home being foreclosed by the lender, putting your property at risk.
Some homeowners choose to finance their pool with a credit card, especially if they can use a promotional interest rate.
Pros
Rewards and Bonuses: Some cards offer rewards or bonuses for large purchases.
Flexibility: Financing a pool with a credit card provides flexibility in terms of repayment. Homeowners can choose to pay off the balance according to their own financial timeline, as long as they meet the minimum payment requirements.
Cons
Higher Long-Term Interest Rates:

Once the promotional period ends, rates can be high.
Potential Impact on Credit Score: Large credit card balances relative to the credit limit, known as high credit utilization, can negatively affect credit scores. 
Looking for a Personal Loan?
Explore your options today!
Pool loans are available through banks, credit unions, and online lenders, each with specific borrower requirements and loan terms.
Banks: Existing bank customers may access benefits like reduced rates, higher loan amounts, or exclusive offers. Generally, banks favor those with solid credit and a significant income.
Credit Unions: Individuals with fair or poor credit (scores of 689 or lower) could have better chances with credit union loans. These nonprofit institutions often consider your membership history rather than your credit score.
Online Lenders: Online lenders differ in eligibility and loan features. Some cater to low-credit or limited-credit borrowers, while others provide specialized options for well-qualified applicants.
The Cost Of A Swimming Pool
According to Homeguide, swimming pool installation costs range from $1,000 to $55,000. Pool installation costs are primarily determined by the size and depth of the pool, as well as the type of installation.
The size, depth, and type of installation are the main factors that determine the cost. In-ground pools typically cost around $35,000, while above-ground pools usually cost around $2,800 on average.
Disclaimer: The information provided in this article is for educational purposes only. It is not intended as legal or financial advice. Consult with a qualified professional before making any financial decisions.
About this author: Erika Klink is a personal finance writer for My USA Finance. With a passion for data and creating content, she provides invaluable insights and money-saving tricks to help readers maximize their financial potential.
Frequently Asked Questions